Omie tapa painted beaten barkcloth is now showing at
at Baboa Gallery Please ring Mobile: 0401 309 694
Email: joangwinter@gmail.com to make a time.
Baboa Gallery by appointment only.
Click here to view previous exhibition Buborero Jo'e ie – The Hornbill Sings at Woolloongabba Art Gallery
Exhibition Dates: 12 April – 4 May 2019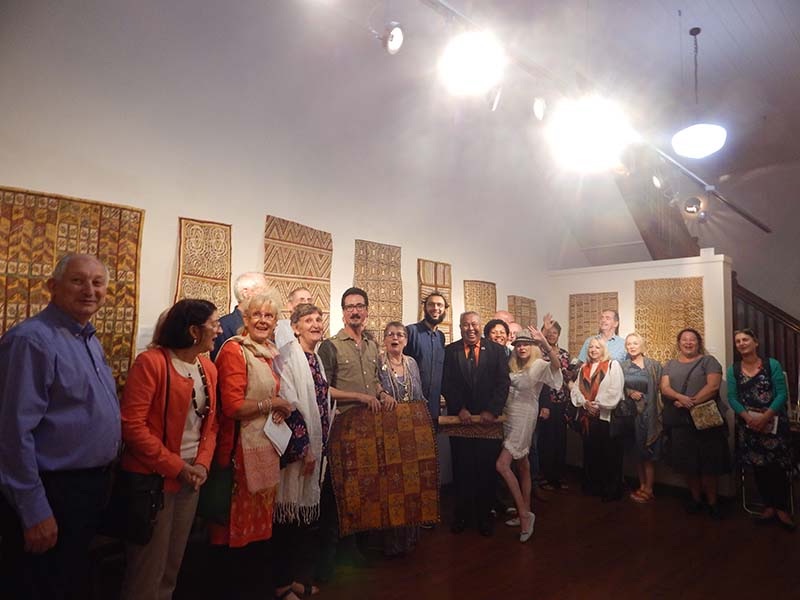 OMIE NIOGE-TAPA CREATION STORY MUSEUM OPENING, ORO PNG
The Omie have a strong culture. They want to share it. When Joan Winter visited in December 2017 a big surprise awaited her.Not only were they most welcoming and generous but 300 plus people came to camp and tell their stories, from other villages. What awaited allat the end of the 4 day stay was astounding.The Omie people with the specialist cultural leaders at the helm had set up a new museum, a rare event anywhere in PNG.
The opening was a ritualized occasion. We all left the main village of Savodibehi and walked ceremoniously to the Museum site as the pictures show. You can see some of the artists amongst the dancers. The leaders danced us into the hamlet. After several speeches all present were requested to keep quiet. Then the leaders took the executive members of Omie Cultural Business Inc. into this new structure. Rex and Lila Warrimo and their older brother lead us in.Rex and Didimus carried the black palm club and spear of authority.
What awaited was profound. Old nioge-tapa and other adornments decorated the small museum accompanied by the centerpiece – the origin story of the Omie. It was not only tapa on the walls but associated elements of the story. We were humbled by the story of the first man and woman and the birth of their first child. The story includes the first nioge tapa that was ever made by an Omie woman. The picture of her cutting the bark off the tree is here.
The Omie wish to share this and get some compensation for offering their strong culture for those who would like to make the trek to see. The trek two days with a stop at Godibehi village overnight on the way is medium status walking, not too hard. Two new houses have been built for visitors also shown at the end of this picture story.
This is the chance of a life time not only to see a rapidly changing culture in action but to see the transforming brilliant beaten bark cloth.
The main expression of their culture.
Please contact Joan Winter on 0401 309 694 or Email joangwinter@gmail.com for more information.